Find accommodation listings:
or select a top Nova Scotia destination:
Display listings by accommodation type by using the menus at the top of the page
Find the best place to stay in Nova Scotia
You will find hundreds of things to see and do, places to stay, festivals, events, and attractions for you to experience throughout the province. Nova Scotia and the maritimes are a wonderful combination of beautiful scenery, lively festivals, small-town charm, fascinating history, and friendly and down-to-earth people. Drive through New Brunswick or come by Ferry through St. John. Take the CAT from Bar Harbor, Maine or the Confederation Bridge from PEI.
Nova Scotia is a great place to visit. Tour our coastal highways. Discover our parks, museums and wilderness areas. Sample our unique food, music, crafts and folkways. Relax and unwind in a place that puts a premium on community pride and family life.
We have been welcoming visitors for hundreds of years and Nova Scotia has been a vacation destination for more than a century. And we've earned a reputation for genuine friendliness and warm hospitality. Experience history and unwind in a heritage bed and breakfast or inn. Play a round of golf. Get romantic. Come discover your Nova Scotia in Atlantic Canada.
Listed under Lunenburg Bed and Breakfasts
Treat yourself to one of our three themed rooms: the First Peoples, the Settlers or Athenian Room. Each room features comfortable posturepedic beds with private bathrooms. Enjoy the view of the harbour entrance from every guest bedroom as well as the guest dining and sitting areas. Take ..... Read More ...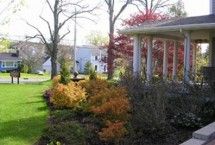 Listed under Wolfville Bed and Breakfasts
They say, there is no place like the Annapolis valley. Its lush greenery, vast orchards, pristine vineyards and peaceful ambience are sure to please all who discover it. When you are visiting Wolfville, at the heart of the valley, come and make yourself at home in our classic revival-style bed and ..... Read More ...
Listed under Lunenburg Bed and Breakfasts
You are going to love spending time in our town. Lunenburg has over 250 years of history with a wealth of it still around to experience in architecture and at the Fisheries Museum. We also have a thriving artistic community and many talented people - artists, performers and musicians alike, ..... Read More ...
Listed under Windsor Bed and Breakfasts
A stunning century home that has the elegance of yesteryear with the amenities of today. Enjoy wine in the front sherry room, relax in the huge pillow top bed with luxurious linens, indulge in the soaker tub and wrap yourself in the plush robes and wake up to a huge breakfast in the formal dining ..... Read More ...
Listed under Westport Bed and Breakfasts
Travelers, birders and whale watching enthusiasts can enjoy a Mariner Cruise, explore Brier Island and return to quiet Nova Scotia accommodation, a comfortable room in a century old home overlooking Westport Harbour. The large, two-story Victorian house complete with car garage, large living ..... Read More ...
Listed under Tatamagouche Bed and Breakfasts
Green Dragon is a small certified biodynamic family-farm specialized in Fallow Deer, which is known for its beauty and great value meat! We also offer farm fresh organic vegetables, Shiitake mushrooms, eggs and more (season and sun dependant!).Walk the Llama, snow-shoe or stroll over to the ..... Read More ...