A Boat To Sea Bed & Breakfast
Charming waterfront accommodations located in the heart of North Sydney.
Listed in North Sydney Bed and Breakfasts.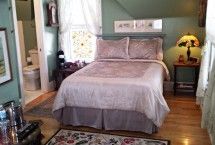 All of our rooms have been tastefully finished with the greatest care and comfort in mind, as seen by our unique artwork, stained glass and antiques. With a breathtaking view of the harbour, our beautiful gardens and a serene atmosphere, our goal is to provide you with the most enjoyable stay possible.
Please note the information provided here may have been collected from a number of sources and should not be considered authoritive. Please check with the property listed for up-to-date information and current pricing information. Unless specified otherwise, all distances are linear and do not represent driving or walking distances.
A Boat To Sea Bed & Breakfast
61 Queen Street

,
North Sydney,
Nova Scotia,
Canada,


B2A 1A4
Telephone: (+001) 902-794-8326
A Boat To Sea Bed & Breakfast may be a suitable property if you are looking to stay near Sydney Mines, Little Bras d'Or, Bras d'Or, Sydney, Little Pond, Membertou, River Ryan, New Waterford, Howie Centre or Sydney Forks.