Aaron's Dove House Bed & Breakfast Harbourside
Listed in North Sydney Bed and Breakfasts.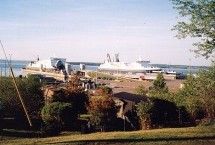 We have been welcoming guests into our home for 15 years. We attributed our success over the years to offering guests what they expect from a Bed & Breakfast, a unique experience, personal service, reasonable rates, comfortable beds and great breakfasts.
Our Bed and Breakfast is situated in the center of town on a picturesque street, lined with mature trees and heritage homes. It's a pleasant walk to downtown, beaches and recreational facilities. Near Newfoundland Ferries. Our bountiful full breakfast includes choice of beverages, fruit salad, yogurt, cereals, breads, homemade jams, Scottish oat scones, blueberry Belgium waffles with maple syrup, bacon and eggs. Simply delicious!
Please note the information provided here may have been collected from a number of sources and should not be considered authoritive. Please check with the property listed for up-to-date information and current pricing information. Unless specified otherwise, all distances are linear and do not represent driving or walking distances.
Aaron's Dove House Bed & Breakfast Harbourside
108 Queen Street

,
North Sydney,
Nova Scotia,
Canada,


B2A 1A6
Telephone: (+001) 902-794-7126
Toll Free: (+001) 866-794-3642
Aaron's Dove House Bed & Breakfast Harbourside may be a suitable property if you are looking to stay near Sydney Mines, Little Bras d'Or, Bras d'Or, Sydney, Little Pond, Membertou, River Ryan, New Waterford, Big Bras D'or or Howie Centre.