Acadian Motel
Motel with 15 modern units.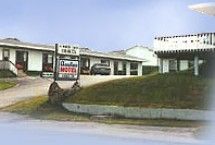 The 15 modern units of the Acadian Motel overlooking the Cheticamp Harbour treats their guest to wall to wall carpet, Cable T.V., radio, fridge and microwave with each unit temperature controlled, air-conditioning and electrically heated. Due to allergies and asthma sufferers, all of our rooms are non-smoking and no pets are permitted in any room.The Accommodations consist of 15 immaculate units with 4 piece bath, 2 double beds with children under 12 staying free of charge.
Please note the information provided here may have been collected from a number of sources and should not be considered authoritive. Please check with the property listed for up-to-date information and current pricing information. Unless specified otherwise, all distances are linear and do not represent driving or walking distances.
Acadian Motel
15202 Main Street

,
Cheticamp,
Nova Scotia,
Canada,


B0E1H0
Telephone: (+001) 902-224-2640
Fax: (+001) 902-224-1431
Toll Free: (+001) 800-615-1977
Acadian Motel may be a suitable property if you are looking to stay near Chéticamp, Point Cross, Grand Etang, St. Joseph Du Moine, St. Joseph du Moine, Cap Le Moine, Belle Côte, Belle Cote, Margaree Harbour or Chimney Corner.