Admiral Digby Inn
Digby motel with 40 comfortable modern rooms.
Listed in Digby Motels.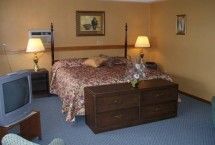 Full service Inn/Hotel with some cottages. Indoor pool Wi fi , fantastic views from every room, Restaurant lounge.
40 comfortable modern rooms with 2 double beds or 1 queen and a pullout, mini fridge.
Please note the information provided here may have been collected from a number of sources and should not be considered authoritive. Please check with the property listed for up-to-date information and current pricing information. Unless specified otherwise, all distances are linear and do not represent driving or walking distances.
Admiral Digby Inn
441 Shore Road

,
Digby,
Nova Scotia,
Canada,


B0V 1A0
Telephone: (+001) 902-245-2531
Fax: (+001) 902-245-2533
Toll Free: (+001) 800-465-6262
Admiral Digby Inn may be a suitable property if you are looking to stay near Smiths Cove, Smith's Cove, Deep Brook, Hillgrove, Clementsport, Bear River, Brighton, Port Royal, Upper Clements or Barton.