Ascendence Harbourside Mansion Bed & Breakfast
Listed in Halifax Bed and Breakfasts.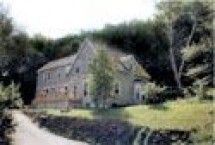 Ascendence Harbour Side Mansion Bed And Breakfast Nova Scotia
Come stay at this 4 STAR, Victorian Heritage Property, build in 1891 for the Auditor General of Nova Scotia. Ascendence Harbour side Mansion B&B -Halifax offers luxury accommodations in a very green setting, yet located just minutes (4.5 km) from all the Halifax attractions. Super friendly staff will be happy to plan and organize your stay in Nova Scotia at no extra charge.
All Inclusive Accommodations
This Bed & Breakfast offers All Inclusive stay which will impress the most discriminating traveler. Egyptian cotton 1000 TC sheets, fresh flowers, Welcome drinks, parking, Wi-Fi, robes, laptop to use in your room, Concierge and Deluxe hot breakfast featuring crapes, served in a beautiful formal dining room is ALL complimentary. The Mansion also offers special activities just FOR KIDS, is pet friendly and even serves "Tea & Dessert" at 5 oclock in the Grand Reception Room. Pampering Makeovers just for guests in the studio and Spa services next door. ALL TAXES INCLUDED!
Please note the information provided here may have been collected from a number of sources and should not be considered authoritive. Please check with the property listed for up-to-date information and current pricing information. Unless specified otherwise, all distances are linear and do not represent driving or walking distances.
Ascendence Harbourside Mansion Bed & Breakfast
24 Northumberland Lane

,
Halifax,
Nova Scotia,
Canada,


B3M 1R7
Telephone: (+001) 902-407-3734
Toll Free: (+001) 877-405-1530
Ascendence Harbourside Mansion Bed & Breakfast may be a suitable property if you are looking to stay near Bedford, Wyse Corner, Dartmouth, Petite Riviàre, Sackville, Herring Cove, Hammonds Plains, Eastern Passage, Fall River or Upper Sackville.