At The Harbourfront B & B Inn
Listed in North Sydney Bed and Breakfasts.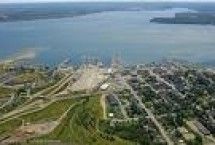 A comfortable bed and breakfast one block from the Marine Atlantic Terminal to Newfoundland. It is across the street from the bus terminal and overlooks Sydney Harbour. This large turn of the century house offers 7 rooms with private baths, a common room and front porch for those who like to sit and relax in the evening. Amenities include cable TV, internet access and free local calls. There is protected storage for cyclists. A full breakfast is included between 7 AM to 9 AM and a self serve continental is available for those with an early departure time. We accommodate late night arrivals.
This is a good central location to visit various attractions around the island and North Sydney offers evening wharf-side entertainment in the summer.
Please note the information provided here may have been collected from a number of sources and should not be considered authoritive. Please check with the property listed for up-to-date information and current pricing information. Unless specified otherwise, all distances are linear and do not represent driving or walking distances.
At The Harbourfront B & B Inn
123 Pierce Street

,
North Sydney,
NS,
Canada,


B2A 1P1
Telephone: (+001) 902-241-3001
Fax: (+001) 902-241-3002
Toll Free: (+001) 888-606-3001
At The Harbourfront B & B Inn may be a suitable property if you are looking to stay near Sydney Mines, Little Bras d'Or, Bras d'Or, Little Pond, Sydney, Membertou, River Ryan, New Waterford, Big Bras D'or or Boularderie East.