Atlantica Hotel
A Canada Select 4 Star hotel experience.
Listed in Halifax Hotels.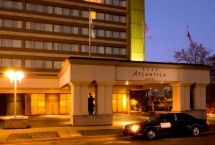 The place to stay in downtown Halifax. Here, dining is divine, weddings are wonderful and meetings form the foundation for something more. It's a four-star experience where guestrooms are thoughtful and warm, the staff goes above and beyond to please, and the best our city has to offer is close at hand. This is Atlantica Hotel Halifax. A downtown different way to dream, dine, meet and unwind.
Please note the information provided here may have been collected from a number of sources and should not be considered authoritive. Please check with the property listed for up-to-date information and current pricing information. Unless specified otherwise, all distances are linear and do not represent driving or walking distances.
Atlantica Hotel
1980 Robie Street

,
Halifax,
Nova Scotia,
Canada,


B3H 3G5
Telephone: (+001) 902-423-1161
Atlantica Hotel may be a suitable property if you are looking to stay near Dartmouth, Wyse Corner, Herring Cove, Eastern Passage, Bedford, Timberlea, Petite Riviàre, Sackville, Fall River or Lawrencetown Beach.