Best Western Glengarry Hotel
The highest level of comfort in Truro.
Listed in Truro Hotels.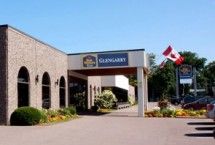 Choose from king, queen or executive two room suites. All our rooms are warm, comfortable and most are wheel chair accessible. Dine in our light and friendly Coffee Shop or in the main non-smoking Dining Room. The menus are inviting, the food is superb. For exercise or relaxation you can choose our indoor pool or relax in our hot tub. Outside pool (seasonal) with an Oasis Pool Side Bar. In the evening join us in Sherlocks Piano Bar.
Please note the information provided here may have been collected from a number of sources and should not be considered authoritive. Please check with the property listed for up-to-date information and current pricing information. Unless specified otherwise, all distances are linear and do not represent driving or walking distances.
Best Western Glengarry Hotel
150 Willow Street

,
Truro,
Nova Scotia,
Canada,


B2N4Z6
Telephone: (+001) 902-893-4311
Fax: (+001) 902-893-1759
Toll Free: (+001) 800-567-4276
Best Western Glengarry Hotel may be a suitable property if you are looking to stay near Bible Hill, Lower Truro, Hilden, North River, Old Barns, East Mountain, Debert, Maitland, Urbania or Glenholme.