Big Intervale Fishing Lodge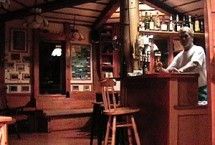 The Big Intervale Fishing Lodge, Restaurant & Cabins lies at the end of the road, just below the rising mountains of the Cape Breton Highlands, from where the path leads into the forest and along the banks of the pristine Margaree River, a breathtaking scene for everyone who loves the outdoors. We invite you to enjoy our family friendly lodge, whether you're planning a fishing, hiking or biking (ATV) vacation or you just want to relax and enjoy the majestic beauty of the waters and the natural lures of the land.
At the Big Intervale Fishing Lodge, the cabins are nestled under giant maples and you are surrounded with the majesty of the landscape.
The complex offers three cabins (6 units). For your comfort each unit has individual electric heat thermostats, two double beds, coffee maker, private bath with showers and service beyond expectations. Some rooms with Satellite TV.
Please note the information provided here may have been collected from a number of sources and should not be considered authoritive. Please check with the property listed for up-to-date information and current pricing information. Unless specified otherwise, all distances are linear and do not represent driving or walking distances.
Big Intervale Fishing Lodge
3719 Big Intervale Road

,
Margaree Valley,
Nova Scotia,
Canada,


B0E 2C0
Telephone: (+001) 902-248-2275
Fax: (+001) 902-248-2639
Big Intervale Fishing Lodge may be a suitable property if you are looking to stay near Margaree Centre, Belle Cote, North East Margaree, Margaree Harbour, Belle Côte, Cap Le Moine, St. Joseph du Moine, St. Joseph Du Moine, Chimney Corner or Margaree Forks.