Birchwood Campground
Pictou Campsite providing friendly service.
Listed in Pictou Campsites.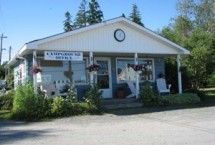 Our family operated park is a perfect place to relax and enjoy time with your family in the great outdoors. We are easily located just minutes from the Prince Edward Island Ferry and the Historic town of Pictou. Birchwood Campground & Cabins excels in providing friendly service on a clean, well-groomed property for your family's enjoyment.
Please note the information provided here may have been collected from a number of sources and should not be considered authoritive. Please check with the property listed for up-to-date information and current pricing information. Unless specified otherwise, all distances are linear and do not represent driving or walking distances.
Birchwood Campground
Box 433

,
Pictou,
Nova Scotia,
Canada,


B0K1H0
Telephone: (+001) 902-485-8565
Fax: (+001) 902-485-1425
Toll Free: (+001) 902-396-8444
Birchwood Campground may be a suitable property if you are looking to stay near Lyons Brook, Braeshore, Caribou, Waterside, Trenton, New Glasgow, Caribou River, Westville, Stellarton or Toney River.