Blue Shutters
Listed in Wolfville Bed and Breakfasts.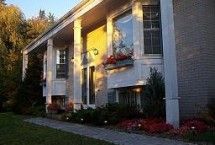 Spacious, sunlit bedrooms, tastefully decorated with Fireplaces, ceiling fans, A/C, and hardwood floors, all located on main level.
Please note the information provided here may have been collected from a number of sources and should not be considered authoritive. Please check with the property listed for up-to-date information and current pricing information. Unless specified otherwise, all distances are linear and do not represent driving or walking distances.
Blue Shutters
7 Blomidon Terrace

,
Wolfville,
Nova Scotia,
Canada,


B4P 2G8
Telephone: (+001) 902-670-6650
Blue Shutters may be a suitable property if you are looking to stay near Grand Pre, Grand Pré, Port Williams, Hortonville, New Minas, Canning, Upper Canard, Kentville, Kempt Shore or Centreville.