Cambridge Suites Hotel
Listed in Halifax Hotels.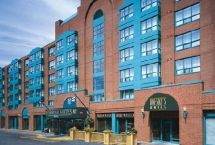 Each suite has a dining area; work place complete with microwave, fridge, toaster, kettle, iron and board, mini bar, coffee maker, dishes and cutlery, a delicious complimentary deluxe continental buffet breakfast is served each morning. Our roof top fitness centre has a whirlpool, sauna, exercise area and sun deck with barbeque.
Please note the information provided here may have been collected from a number of sources and should not be considered authoritive. Please check with the property listed for up-to-date information and current pricing information. Unless specified otherwise, all distances are linear and do not represent driving or walking distances.
Cambridge Suites Hotel
1583 Brunswick Street

,
Halifax,
Nova Scotia,
Canada,


B3J3P5
Telephone: (+001) 902-420-0555
Fax: (+001) 902-420-9379
Toll Free: (+001) 800-565-1263
Cambridge Suites Hotel may be a suitable property if you are looking to stay near Dartmouth, Wyse Corner, Herring Cove, Eastern Passage, Bedford, Petite Riviàre, Sackville, Lawrencetown Beach, East Lawrencetown or Fall River.