Clansman Motel
Motel located in the heart of North Sydney.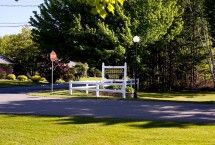 The Clansman Motel is within walking distance to the North Sydney Mall and just 1 kilometer away from North Sydney's downtown shopping area. Just 3 kilometers away, sailing enthusiasts can enjoy the Northern Yacht Club.
Please note the information provided here may have been collected from a number of sources and should not be considered authoritive. Please check with the property listed for up-to-date information and current pricing information. Unless specified otherwise, all distances are linear and do not represent driving or walking distances.
Clansman Motel
9 Baird Street

,
North Sydney,
Nova Scotia,
Canada,


B2A 3M3
Telephone: (+001) 902-794-7226
Clansman Motel may be a suitable property if you are looking to stay near Little Bras d'Or, Sydney Mines, Bras d'Or, Little Pond, Sydney, Membertou, Big Bras D'or, Boularderie East, River Ryan or New Waterford.