Coastal Inn
Motel with 36 spacious air-conditioned units.
Listed in Digby Motels.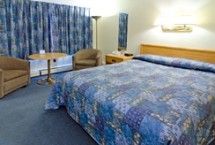 Motel offering 37 spacious drive-up units. Cable TV, high-speed Internet, phone, hairdryer. Light breakfast included. Guest laundromat; play area; conference room. Group bookings welcome. Golf, whalewatching, hiking and biking are nearby; 25 km to theme park.
Please note the information provided here may have been collected from a number of sources and should not be considered authoritive. Please check with the property listed for up-to-date information and current pricing information. Unless specified otherwise, all distances are linear and do not represent driving or walking distances.
Coastal Inn
111 Warwick St

,
Digby,
Nova Scotia,
Canada,


B0V 1A0
Telephone: (+001) 902-245-4747
Coastal Inn may be a suitable property if you are looking to stay near Smiths Cove, Smith's Cove, Hillgrove, Deep Brook, Brighton, Bear River, Barton, Clementsport, Upper Clements or Port Royal.