Comfort Inn
Hotel with easy access to all major attractions in the area.
Listed in Yarmouth Hotels.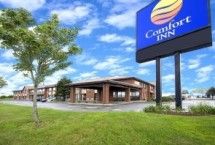 Comfort Inn Yarmouth has newly renovated the front desk lobby area, all bedrooms including carpet, vinyl, drapes, bedding, 32inch LCD flat screen TVs & new vanity and tile in the bathrooms. Relax in our new breakfast room & enjoy our complimentary hot breakfast. This hotel is 100% Smoke Free. Centrally located which allows easy access to all major attractions in the area such as the Cape Forchu Lighthouse, Museums and Restaurants
Please note the information provided here may have been collected from a number of sources and should not be considered authoritive. Please check with the property listed for up-to-date information and current pricing information. Unless specified otherwise, all distances are linear and do not represent driving or walking distances.
Comfort Inn
96 Starrs Road

,
Yarmouth,
Nova Scotia,
Canada,


B5A2T5
Telephone: (+001) 902-742-1119
Fax: (+001) 902-742-1114
Comfort Inn may be a suitable property if you are looking to stay near Arcadia, Dayton, Hebron, Tusket, Darlings Lake, Deerfield, Surette's Island, Roberts Island, Carleton or Salmon River.