Comfort Inn
Hotel centrally located within Pictou County.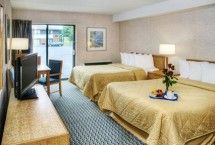 Maritime hospitality awaits guests of this New Glasgow hotel, ideally situated within minutes of the Hector Quay Visitor's Marina, Pictou Marina and Melmerby Beach Provincial Park. Northumberland Ferries depart from here enroute to Prince Edward Island.
All guest rooms at this New Glasgow hotel come with 32-inch LCD televisions, coffee makers,hair dryers, irons, ironing boards, cable televisions and pay-per-view movies. Some rooms have microwaves and refrigerators. Non-smoking rooms are offered.
Please note the information provided here may have been collected from a number of sources and should not be considered authoritive. Please check with the property listed for up-to-date information and current pricing information. Unless specified otherwise, all distances are linear and do not represent driving or walking distances.
Comfort Inn
740 Westville Road

,
New Glasgow,
Nova Scotia,
Canada,


B2H2J8
Telephone: (+001) 902-755-6450
Comfort Inn may be a suitable property if you are looking to stay near Stellarton, Westville, Trenton, Pictou, Lyons Brook, Braeshore, Egerton, Caribou, Lansdowne or Waterside.