Comfort Inn
Hotel minutes from Halifax Stanfield International Airport.
Listed in Truro Hotels.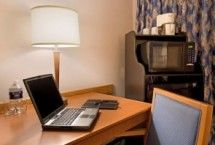 The Comfort Inn Truro hotel is ideally located near major Truro attractions including the Rath Eastlink Community Center, Colchester Regional Hospital, Truro Mall, Colchester Legion Stadium, Truro Tree Sculptures, and the Mastodon Ridge museum and amusement complex
The Cobequid Trail winds through town, exposing guests to the region's history. Guests also have access to the Trans Canada Trail, Trans-Canada Highway and Victoria Park waterfall, and are just minutes from the famous Tidal Bore. The Magic Valley Family Fun Park makes a great day trip from the hotel.
Please note the information provided here may have been collected from a number of sources and should not be considered authoritive. Please check with the property listed for up-to-date information and current pricing information. Unless specified otherwise, all distances are linear and do not represent driving or walking distances.
Comfort Inn
12 Meadow Drive

,
Truro,
Nova Scotia,
Canada,


B2N5V4
Telephone: (+001) 902-893-0330
Comfort Inn may be a suitable property if you are looking to stay near Lower Truro, Bible Hill, Old Barns, Hilden, North River, Debert, East Mountain, Maitland, Glenholme or Urbania.