Future Inns
Hotel adjacent to Bayers Lake business and shopping district.
Listed in Halifax Hotels.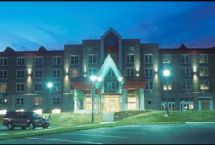 Future Inns Halifax Hotel & Conference Centre is conveniently located in Clayton Park West, just 20 minutes south of the Halifax International Airport and 15 minutes west of Downtown Halifax. Adjacent to the Bayer's Lake Business and Shopping district, and within a one-hour drive to many of Nova Scotia's picturesque locations.
Please note the information provided here may have been collected from a number of sources and should not be considered authoritive. Please check with the property listed for up-to-date information and current pricing information. Unless specified otherwise, all distances are linear and do not represent driving or walking distances.
Future Inns
30 Fairfax Drive

,
Halifax,
Nova Scotia,
Canada,


B3S1P1
Telephone: (+001) 902-443-4333
Toll Free: (+001) 800-565-0700
Future Inns may be a suitable property if you are looking to stay near Timberlea, Bedford, Petite Riviàre, Wyse Corner, Dartmouth, Sackville, Herring Cove, Hammonds Plains, Eastern Passage or Upper Tantallon.