Gowrie House
Ten rooms with private ensuite baths.
Listed in Sydney Mines Bed and Breakfasts.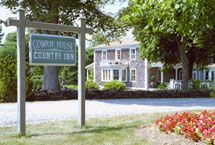 Comfortable rooms, friendly people and superb food. Centrally located on beautiful Cape Breton Island its a great point from which to explore. Whether here for adventure, romance, golf, or respite, the Gowrie House Country Inn is the perfect place to stay. * For complete room descriptions please visit our website at www.gowriehouse.com
Convenient to the North Sydney Ferry Terminal for the Marine Atlantic/Atlantique Ferry to Port aux Basques and St. John's, Newfoundland.
Dinner is served daily at 7:30 p.m. with advance reservations required in our two star rated dining room (of a possible three starts). You will not want to miss dinner at Gowrie House. Each evening at 7:30 p.m. (8:15 later in the year) a four course dinner is served featuring the finest local ingredients available. These ingredients include but are not limited to fresh Atlantic salmon, Cape Breton lamb and seasonal fresh produce. The menu changes daily and may offer fruit soups, salads, a choice of meat or fish entree, and a choice of desserts such as our signature dessert - Hazelnut Meringue Torte.
Please note the information provided here may have been collected from a number of sources and should not be considered authoritive. Please check with the property listed for up-to-date information and current pricing information. Unless specified otherwise, all distances are linear and do not represent driving or walking distances.
Gowrie House
840 Shore Road

,
Sydney Mines,
Nova Scotia,
Canada,


B1V1A6
Telephone: (+001) 902-544-1050
Fax: (+001) 902-736-0077
Toll Free: (+001) 800-372-1115
Gowrie House may be a suitable property if you are looking to stay near North Sydney, Little Bras d'Or, Bras d'Or, Little Pond, New Waterford, River Ryan, Sydney, Membertou, Lingan or Dominion.