Halifax Marriott Harbourfront Hotel
Unparalleled service and downtown convenience in Halifax.
Listed in Halifax Hotels.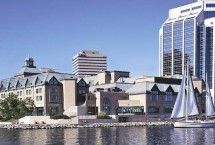 Depart from ordinary hotels in Halifax, NS and discover unparalleled service and downtown convenience from the Halifax Marriott Harbourfront Hotel in Nova Scotia overlooking the harbour. Steps from the business district, World Trade & Convention Centre and Casino, this Halifax, NS hotel positions itself as a downtown destination for business and leisure.
Please note the information provided here may have been collected from a number of sources and should not be considered authoritive. Please check with the property listed for up-to-date information and current pricing information. Unless specified otherwise, all distances are linear and do not represent driving or walking distances.
Halifax Marriott Harbourfront Hotel
1919 Upper Water Street

,
Halifax,
Nova Scotia,
Canada,


B3J 3J5
Telephone: (+001) 902-421-1700
Halifax Marriott Harbourfront Hotel may be a suitable property if you are looking to stay near Dartmouth, Wyse Corner, Herring Cove, Eastern Passage, Bedford, Timberlea, Petite Riviàre, Sackville, Lawrencetown Beach or Fall River.