HearthStone Inn Halifax/Dartmouth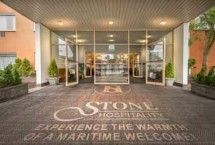 On the doorstep of beautiful scenery adventure fine dining and entertainment the Hearthstone Inn Halifax / Dartmouth offers spacious accommodations in the heart of Dartmouth. You will enjoy this newly-renovated property and a staff that caters to your complete comfort.
Please note the information provided here may have been collected from a number of sources and should not be considered authoritive. Please check with the property listed for up-to-date information and current pricing information. Unless specified otherwise, all distances are linear and do not represent driving or walking distances.
HearthStone Inn Halifax/Dartmouth
313 Prince Albert Road

,
Dartmouth,
Nova Scotia,
Canada,


B3Y 1N3
Telephone: (+001) 902-469-5850
HearthStone Inn Halifax/Dartmouth may be a suitable property if you are looking to stay near Wyse Corner, Halifax, Eastern Passage, Bedford, Herring Cove, Sackville, Petite Riviàre, Fall River, Lawrencetown Beach or East Lawrencetown.