Hidden Hilltop Family Campground
136 site family campground on 45 beautiful acres.
Listed in Truro Campsites.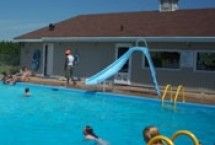 Large swimming pool, horseshoes, washer toss, wagon rides, soap slide, beach volleyball, rec hall with camp store, 1/4 mile paved track for various activities, weekend activities for both adults and children. Special occasion weekends throughout summer. VISA/Interac/MC accepted.
Our store is fully stocked with most things you will find you need or want - we offer pizza, slushies & ice cream and popcorn If there is something you 'd like to see us carry, let us know and we'll do our best to get it in. Our rates are reasonable and include all programming that goes on at the campground.
Please note the information provided here may have been collected from a number of sources and should not be considered authoritive. Please check with the property listed for up-to-date information and current pricing information. Unless specified otherwise, all distances are linear and do not represent driving or walking distances.
Hidden Hilltop Family Campground
2600 Highway 4

,
Truro,
Nova Scotia,
Canada,


B2N5H1
Telephone: (+001) 902-662-3391
Fax: (+001) 902-895-1567
Toll Free: (+001) 866-662-3391
Hidden Hilltop Family Campground may be a suitable property if you are looking to stay near Bible Hill, Lower Truro, Old Barns, Hilden, North River, East Mountain, Debert, Maitland, Glenholme or Urbania.