Jeddore Lodge & Cabins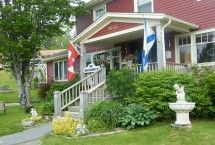 10 Units 4 Standard cabins 4 Housekeeping cabins.
(Fireplace, fridge, hotplate, microwave toaster etc)
2 two bedroom cottages, fully equipped. All have a 3 piece bath (shower)
Please note the information provided here may have been collected from a number of sources and should not be considered authoritive. Please check with the property listed for up-to-date information and current pricing information. Unless specified otherwise, all distances are linear and do not represent driving or walking distances.
Jeddore Lodge & Cabins
9855 Highway 7

,
Salmon River Bridge,
Nova Scotia,
Canada,


B0J 1P0
Telephone: (+001) 902-889-3030
Jeddore Lodge & Cabins may be a suitable property if you are looking to stay near Head of Jeddore, Jeddore, West Jeddore, Upper Lakeville, Lake Charlotte, Musquodoboit Harbour, Clam Bay, Gaetz Brook, Head of Chezzetcook or Grand Desert.