Lansdowne Outdoor Recreational Park
Listed in Westville Campsites.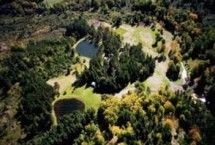 The Leese family of Westville have created a haven for the disabled and seniors. A special place for a special segment of society to enjoy, nestled in over 300 acres of lush forest. Upon entering the expansive park grounds one immediately experiences a sense of serenity and calm. This recreational/wilderness park has much to offer besides nature at it's best, fishing, tenting, Bocce Courts and plenty of picnic tables, gazebos and seating to enjoy a barbeque or a picnic for any size group.
Please note the information provided here may have been collected from a number of sources and should not be considered authoritive. Please check with the property listed for up-to-date information and current pricing information. Unless specified otherwise, all distances are linear and do not represent driving or walking distances.
Lansdowne Outdoor Recreational Park
1480 Highway 289

,
Westville,
Nova Scotia,
Canada,


B0K 2A0
Telephone: (+001) 902-396-4470
Lansdowne Outdoor Recreational Park may be a suitable property if you are looking to stay near Stellarton, New Glasgow, Trenton, Pictou, Lyons Brook, Braeshore, Egerton, Lansdowne, Caribou or Waterside.