Lord Nelson Hotel
4 star historic property in downtown Halifax.
Listed in Halifax Hotels.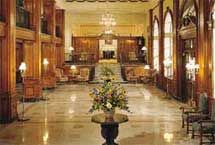 The unique elegance and gracious hospitality of The Lord Nelson Hotel & Suites has been welcoming travellers since it first opened in Halifax, Nova Scotia, October 1928. Whether hosting a lavish formal dinner honouring then-Princess Elizabeth and Prince Phillip, the infamous millionaire Howard Hughes, or the wedding-night celebrations of over 4,000 Nova Scotia couples, The Lord Nelson Hotel & Suites has always been an integral part of Halifax's rich history.
In the Spring Garden Road District of Halifax at the vibrant corner of Spring Garden Road on South Park Street, just across from the famous Public Gardens, we provide up-to-date convenience and modern amenities in guest rooms and suites that are available in a wide range of sizes, lay-outs and styles. Perfect for your meetings and conferences, business trips, or a well-deserved vacation get-away.
Please note the information provided here may have been collected from a number of sources and should not be considered authoritive. Please check with the property listed for up-to-date information and current pricing information. Unless specified otherwise, all distances are linear and do not represent driving or walking distances.
Lord Nelson Hotel
1515 South Park Street

,
Halifax,
Nova Scotia,
Canada,


B3J2L2
Telephone: (+001) 902-423-6331
Fax: (+001) 902-423-7148
Toll Free: (+001) 800-565-2020
Lord Nelson Hotel may be a suitable property if you are looking to stay near Dartmouth, Wyse Corner, Herring Cove, Eastern Passage, Bedford, Petite Riviàre, Sackville, Lawrencetown Beach, East Lawrencetown or Fall River.