Ocean Dream Bed and Breakfast
A unique oceanfront property with a private beach.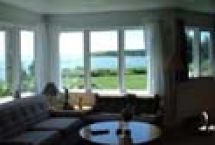 Rich Breakfast Buffet included; use of laundry if weekly rental.
We offer "Test Living in Nova Scotia" , before you buy property. See whether you like the province, the lifestyle, the culture and the climate. Ask for our special rates and services!
Please note the information provided here may have been collected from a number of sources and should not be considered authoritive. Please check with the property listed for up-to-date information and current pricing information. Unless specified otherwise, all distances are linear and do not represent driving or walking distances.
Ocean Dream Bed and Breakfast
86 Spruce Court,
Three Fathom Harbour,
R.R.2,
Head of Chezzetcook,
Nova Scotia,
Canada,


B0J1N0
Telephone: (+001) 902-827-5295
Fax: (+001) 902-827-3439
Toll Free: (+001) 866-301-9857
Ocean Dream Bed and Breakfast may be a suitable property if you are looking to stay near Three Fathom Harbour, Lawrencetown Beach, East Lawrencetown, Grand Desert, Porter's Lake, Porters Lake, Eastern Passage, Gaetz Brook, Musquodoboit Harbour or Dartmouth.