Olde Lantern Inn & Vineyard
A tranquel, friendly environment with all the comfort of home.
Listed in Grand Pre Bed and Breakfasts.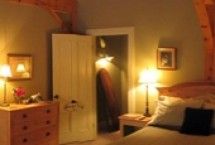 Each year, more visitors return to the Olde Lantern Inn & Vineyard to partake in the many unique wonders, delights, and pleasures of the region as well as the numerous creature comforts our facilities have to offer.
Whether you're looking for a conveniently-located accommodation while visiting the Annapolis Valley, or are just in the mood to get away and spoil yourself, we're ready to exceed your expectations.Either way, we're passionate about extending our hospitality and are determined to make your stay the first of many, memorable ones. We look forward to your visit.
Please note the information provided here may have been collected from a number of sources and should not be considered authoritive. Please check with the property listed for up-to-date information and current pricing information. Unless specified otherwise, all distances are linear and do not represent driving or walking distances.
Olde Lantern Inn & Vineyard
11575 Highway 1

,
Grand Pre,
Nova Scotia,
Canada,


BOP 1M0
Telephone: (+001) 902-542-1389
Olde Lantern Inn & Vineyard may be a suitable property if you are looking to stay near Yarmouth, Arcadia, Dayton, Hebron, Darlings Lake, Westport, Cape St.Mary's, Salmon River, Mavillette or Surette's Island.