Rum Hollow Seaside Bed & Breakfast
4 1/2 star waterfront B&B.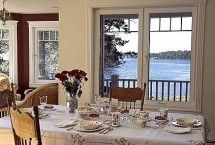 The shingle style house is hidden down our tree lined country lane at the water's edge, in the hollow where the rumrunners hid their liquid treasure.
Please note the information provided here may have been collected from a number of sources and should not be considered authoritive. Please check with the property listed for up-to-date information and current pricing information. Unless specified otherwise, all distances are linear and do not represent driving or walking distances.
Rum Hollow Seaside Bed & Breakfast
13570 Peggy's Cove Road

,
Upper Tantallon,
Nova Scotia,
Canada,


B3Z 2J2
Telephone: (+001) 902-826-7683
Rum Hollow Seaside Bed & Breakfast may be a suitable property if you are looking to stay near Boutilier's Point, Hammonds Plains, Black Point, Petite Riviàre, Queensland, Glen Margaret, Hubbards, Hacketts Cove, Bedford or Upper Sackville.