Salmon River House Country Inn
Boutique hotel offering B&B and a full service Restaurant.
Listed in Halifax Bed and Breakfasts.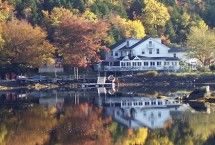 Touching the sea the Salmon River Country Inn is located 50 km from Halifax on the Eastern Shore directly at the Salmon River bridge. Former being known as the "Lobster Shack" or the "Salmon River House", the Salmon River Country Inn was re-opened in 2013 is since then owned and operated by Margit and her family.
Our restaurant offers German and Canadian food. From the traditional german "Sauerbraten" to the canadian Lobster Roll we use ingredients as fresh and as local as possible and where and whenvever available, organically grown.
Whether you want to discover the beautiful Eastern Shore, are planning to explore Nova Scotia on a road trip or just want to escape the city life for a week end: we are looking forward to welcome you at the Salmon River Country Inn!
7 waterview rooms & 1 cabin (D,T,Q,K), 3-pc (S) or 4-pc bath (some jacuzzis), CBTV, Wi-Fi, window & ceiling fans. Waterside inn (c 1855); seafood restaurant, German cuisine; boardwalks, wharf, canoes. 20 km to sandy beaches; 50 km to Halifax & airport. Children welcome. French, German spoken.
Please note the information provided here may have been collected from a number of sources and should not be considered authoritive. Please check with the property listed for up-to-date information and current pricing information. Unless specified otherwise, all distances are linear and do not represent driving or walking distances.
Salmon River House Country Inn
9931 Highway 7

,
Halifax,
Nova Scotia,
Canada,


B0J 1P0
Telephone: (+001) 902-889-3353
Toll Free: (+001) 800-565-3353
Salmon River House Country Inn may be a suitable property if you are looking to stay near Musquodoboit Harbour, Gaetz Brook, Jeddore, Head of Jeddore, Salmon River Bridge, West Jeddore, Head of Chezzetcook, Upper Lakeville, Porters Lake or Porter's Lake.