Super 8
Hotel located just 5 minutes from the Nova Scotia and New Brunswick border.
Listed in Amherst Motels.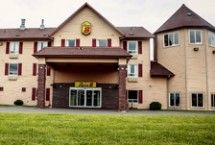 Imagine the fun and endless possibilities that can be had at Super 8 hotel in Amherst NS. An indoor, heated pool with waterslide, invigorating spa, and entertaining water umbrella, ensures delightful moments for the whole family. And, with this great onsite entertainment included in our fabulous hotel rates, Super 8 Amherst helps your vacation dollar go further. It's easy to see why business and leisure travellers prefer Super 8 Amherst.
Please note the information provided here may have been collected from a number of sources and should not be considered authoritive. Please check with the property listed for up-to-date information and current pricing information. Unless specified otherwise, all distances are linear and do not represent driving or walking distances.
Super 8
40 Lord Amherst Drive

,
Amherst,
Nova Scotia,
Canada,


B4H 4W6
Telephone: (+001) 902-660-8888
Super 8 may be a suitable property if you are looking to stay near Nappan, Springhill, Joggins, Tidnish, Oxford, Lorneville, Amherst Shore, Pugwash, Moose River or Gulf Shore.