The Garden Inn
Listed in Halifax Bed and Breakfasts.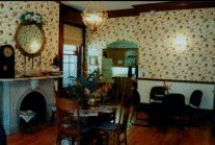 Whether you're looking for a romantic retreat or a holiday get-away, The Garden Inn has the right accommodations for you. Ask us about our Weddings, Just-for-Friends, and Long-term Packages. Travelling on business? Call us about our business travellers rate.
"A Beauty to Behold in the Heart of Halifax, Nova Scotia, Canada"
Please note the information provided here may have been collected from a number of sources and should not be considered authoritive. Please check with the property listed for up-to-date information and current pricing information. Unless specified otherwise, all distances are linear and do not represent driving or walking distances.
The Garden Inn
1263 South Park Street

,
Halifax,
Nova Scotia,
Canada,


B3J2K8
Telephone: (+001) 902-492-8577
Fax: (+001) 902-492-1462
Toll Free: (+001) 877-414-8577
The Garden Inn may be a suitable property if you are looking to stay near Dartmouth, Wyse Corner, Herring Cove, Eastern Passage, Bedford, Petite Riviàre, Sackville, Lawrencetown Beach, East Lawrencetown or Fall River.