The Martin Arms Hotel
Listed in Sydney Motels.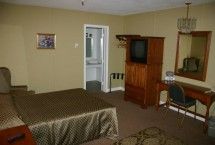 We are conveniently located in downtown Sydney, making our hotel an ideal destination for business and leisure travelers alike. We offer our guests exceptional, personalized service. We hope that a stay with us will evoke both luxury and style and leave you wanting to return soon. We know that traveling can be stressful at times and our goal is to make your stay with us memorable and comfortable.
Please note the information provided here may have been collected from a number of sources and should not be considered authoritive. Please check with the property listed for up-to-date information and current pricing information. Unless specified otherwise, all distances are linear and do not represent driving or walking distances.
The Martin Arms Hotel
100 Kings Road

,
Sydney,
Nova Scotia,
Canada,


B1S 1A1
Telephone: (+001) 902-567-3311
The Martin Arms Hotel may be a suitable property if you are looking to stay near Membertou, Howie Centre, North Sydney, Sydney Forks, Sydney Mines, River Ryan, Little Bras d'Or, Reserve Mines, Bras d'Or or Dominion.