Train Station Inn
A Bed and Breakfast inn reflecting its railway past.
Listed in Tatamagouche Bed and Breakfasts.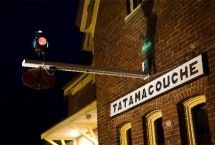 The Train Station Inn has been restored with 3 bedrooms, private baths, a parlor, sitting rooms, balcony & kitchenette all in the original Stationmaster residence on the second floor. On the first floor, a railway museum café & gift shop are in the men's and ladies' waiting rooms and the telegraph room is now a museum.
Please note the information provided here may have been collected from a number of sources and should not be considered authoritive. Please check with the property listed for up-to-date information and current pricing information. Unless specified otherwise, all distances are linear and do not represent driving or walking distances.
Train Station Inn
21 Station Road

,
Tatamagouche,
Nova Scotia,
Canada,


B0K1V0
Telephone: (+001) 902-657-3222
Fax: (+001) 902-657-9091
Toll Free: (+001) 888-724-5233
Train Station Inn may be a suitable property if you are looking to stay near Balfron, Bayhead, Brule, Malagash, Marshville, River John, West Branch, Wallace, Wentworth or Toney River.