Birds I View Cottage
Listed in South Side Cottages / Cabins.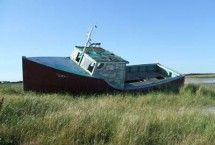 Located on Cape Sable Island, Nova Scotia, Atlantic Canada's most southerly point.
Frequented by avid birder enthusiasts and those who just want to get away from it all.
Birds I View Cottage is just one hour from the ferry to Maine, or three hours from Halifax Internationsl Airport.
Once there, you're only a two minute walk from miles of white sand beach, crisp salt air and the sounds of shore birds, fog horns , and the crashing of waves.
Please note the information provided here may have been collected from a number of sources and should not be considered authoritive. Please check with the property listed for up-to-date information and current pricing information. Unless specified otherwise, all distances are linear and do not represent driving or walking distances.
Birds I View Cottage
68 Daniel's Head Road

,
South Side,
Nova Scotia,
Canada,


B0W 1P0
Telephone: (+001) 902-637-2553
Birds I View Cottage may be a suitable property if you are looking to stay near Cape Sable Island, North East Point, Barrington Passage, Shag Harbour, Clyde River, Ingomar, Middle West Pubnico, Pubnico, Argyle Sound or Churchover.