Gardenhouse Bed & Breakfast
Wolfville heritage B&B.
Listed in Wolfville Bed and Breakfasts.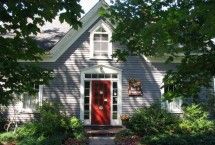 If you welcome the fresh air smell of your sheets, relaxed and genuine hospitality, fresh flowers inside and out, tea, or your own stronger brew in the garden, respected privacy, an atmosphere of fun and good value, pleasant breakfast conversation then we're for you!
Please note the information provided here may have been collected from a number of sources and should not be considered authoritive. Please check with the property listed for up-to-date information and current pricing information. Unless specified otherwise, all distances are linear and do not represent driving or walking distances.
Gardenhouse Bed & Breakfast
220 Main Street

,
Wolfville,
Nova Scotia,
Canada,


B4P1C4
Telephone: (+001) 902-542-1703
Fax: (+001) 902-690-2832
Gardenhouse Bed & Breakfast may be a suitable property if you are looking to stay near Grand Pre, Grand Pré, Port Williams, Hortonville, New Minas, Canning, Upper Canard, Kentville, Kempt Shore or Blomidon.