Gingerbread House Inn Bed & Breakfast
Five rooms and four suite B&B in Wolfville.
Listed in Wolfville Bed and Breakfasts.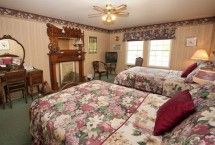 Our location makes us an ideal home base from which to discover and explore all the wonders Nova Scotia has to offer. Take a day trip to Halifax, go whale watching, visit historic sites, walk on the nearby dykelands, see the world's highest tides, go skiing, enjoy a fresh lobster dinner or see a play at the Atlantic Theatre Festival ... or perhaps you are looking for a romantic getaway for two.
Please note the information provided here may have been collected from a number of sources and should not be considered authoritive. Please check with the property listed for up-to-date information and current pricing information. Unless specified otherwise, all distances are linear and do not represent driving or walking distances.
Gingerbread House Inn Bed & Breakfast
8 Robie Tufts Drive

,
Wolfville,
Nova Scotia,
Canada,


B4P1X1
Telephone: (+001) 902-542-1458
Fax: (+001) 902-542-4718
Toll Free: (+001) 888-542-1458
Gingerbread House Inn Bed & Breakfast may be a suitable property if you are looking to stay near Port Williams, Grand Pre, Grand Pré, Hortonville, New Minas, Kingsport, Canning, Upper Canard, Kentville or Centreville.