Old Orchard Inn and Spa
A gentle world of Natural beauty and modern amenities
Listed in Wolfville Bed and Breakfasts.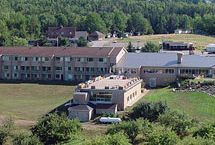 Conveniently located in the Annapolis Valley, just under 1 hour from Halifax you will find that our staff pride themselves in providing the warmest hospitality and biggest smiles in Nova Scotia.
Please note the information provided here may have been collected from a number of sources and should not be considered authoritive. Please check with the property listed for up-to-date information and current pricing information. Unless specified otherwise, all distances are linear and do not represent driving or walking distances.
Old Orchard Inn and Spa
153 Greenwich Road South

,
Wolfville,
Nova Scotia,
Canada,


B4P2R2
Telephone: (+001) 902-542-5751
Fax: (+001) 902-542-2276
Old Orchard Inn and Spa may be a suitable property if you are looking to stay near New Minas, Kentville, Port Williams, South Alton, Upper Canard, Centreville, Grand Pre, Grand Pré, Canning or Coldbrook.