Siesta Motel
A small 15 unit motel in Digby.
Listed in Digby Motels.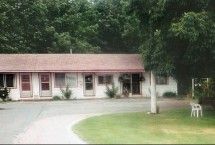 The Siesta Motel is a small 15 unit motel operating on the edge of the Digby Business area for over 50 years. We try to make our guests feel like they are at home and are part of the family during their stay in Digby.
Please note the information provided here may have been collected from a number of sources and should not be considered authoritive. Please check with the property listed for up-to-date information and current pricing information. Unless specified otherwise, all distances are linear and do not represent driving or walking distances.
Siesta Motel
81 Montague Row

,
Digby,
Nova Scotia,
Canada,


B0V 1A0
Telephone: (+001) 902-245-2568
Siesta Motel may be a suitable property if you are looking to stay near Smiths Cove, Smith's Cove, Deep Brook, Hillgrove, Bear River, Brighton, Clementsport, Barton, Upper Clements or Port Royal.