Seawind Landing Country Inn
Listed in Charlos Cove Bed and Breakfasts.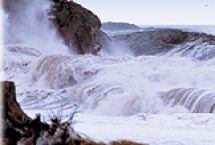 Dramatic setting with breathtaking panoramic views. Tastefully appointed with antiques & fine art. Grand wood fireplace in music room. Renowned for gourmet oceanfront dining & extensive wine cellars. Sailing tours with white linen breakfast to Nova Scotia's wildest coastal protected area for wildlife viewing. Private secluded sandy beaches, quiet romantic ambiance. Extensive peaceful coastal walking trails with stunning views for meditation & reflection. Internet access. 12 seaside rooms with magnificent ocean views most with queen beds & whirlpool baths with balconies and private entrances.
"Accomodations Award of Excellence"
The oceanfront living room is the perfect environment for engaging in casual conversation, or if you wish, discover a good book in the library to curl up with.
Double French doors lead from the living room to the seaside music room and wood burning grand fireplace. Take time to muse over the fine art. Enjoy the local customs, folklore and culture along with a wee dram with other guests, and join in on an impromptu sea shanty.
Spend many hours exploring the spectacular grounds, nature trails and beaches of SeaWind's environs. You will particularly appreciate the private wharf, and small fleet of boats that enable you to reach the fascinating, uninhabited coastal islands.
Don't miss the Sailing Adventures. It's a memory that has helped make SeaWind Landing the highlight of many a maritime vacation. Why not make it yours?
SeaWind Landing is the kind of place that's as easy to enjoy, as it is hard to leave. But don't worry, they'll have your room ready when you return, as so many of their guests do.
Please note the information provided here may have been collected from a number of sources and should not be considered authoritive. Please check with the property listed for up-to-date information and current pricing information. Unless specified otherwise, all distances are linear and do not represent driving or walking distances.
Seawind Landing Country Inn
1 Wharf Road

,
Charlos Cove,
Nova Scotia,
Canada,


BOH1TO
Telephone: (+001) 902-525-2108
Fax: (+001) 902-525-2108
Toll Free: (+001) 800-563-4667
Seawind Landing Country Inn may be a suitable property if you are looking to stay near Whitehead, Country Harbour, Fox Island, Guysborough, Boylston, Isaac's Harbour, Canso, Port Bickerton, West Arichat or Arichat.